Home
Clymping, West Sussex
Clymping is a parish of 690 hectares on the south coast to the west of Littlehampton. It is in West Sussex County Council area and within Arun District Council. While the parish council prefers the more traditional spelling used on this website the name is often spelt "Climping" and this is the way it usually appears on maps. In the 2001 census it had a population of 600. It is crossed roughly east to west by the A259 Littlehampton to Bognor Road. The other main routes in the parish are the B2233 and Church Lane going from their junctions with the A259 north-west to Yapton and northward to Ford and Arundel respectively.
Clymping has a long and interesting history. Fortunately the Victoria County History for Sussex Volume 5 part 1 was issued in 1997 covering the Rape of Arundel and this is available on the web. Here is the link that will be take you to the section on the parish: Link to Victoria County History for Sussex Volume 5 part 1 .
The parish lies within the administrative boundaries of Arun District Council (ADC) and West Sussex County Council (WSCC).
Places of Interest:
1. St Mary's Church
Originally a Norman watchtower built around 1170 with the church added about 1230.
(Below: A 1930s picture of the tower)
A 1930s postcard of the Church Tower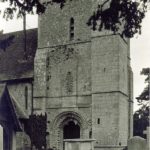 2. The Black Horse Public House (not currently open)
Located in Clymping Street this was an 18th century smuggling inn.
(Below: A 1930s picture of the Inn)
A 1930s postcard of the Black Horse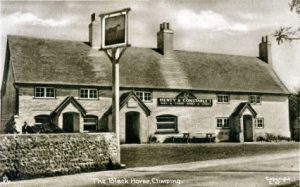 3. Bailiffscourt
Now a hotel, this is also in Clymping Street and was built by Lord Moyne between the wars in historic style. After the Norman conquest the manor of Atherington (now largely lost to the sea) was given to the Abbey of Seez in Normandy and they sent over a monk to act as bailiff. Hence the name. While the hotel is therefore quite modern there is a 12th century chapel of the baliff within its grounds.
(Below: A 1984 picture of Bailiffscourt)
A 1984 Postcard of Bailiffscourt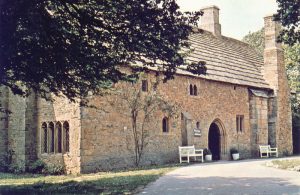 4. Clymping Beach
The beach at Clymping, although mainly privately owned, has for many years been made available for family use. As it is frequented by families an acceptable standard of dress is expected and enforced. Local residents are very happy to see visitors enjoying themselves within these constraints. Adjacent to the beach is a Site of Special Scientific Interest (SSSI) where uncommon and indeed, in some cases, rare specimens of flora and fauna are to be found. The public are asked to exercise particular caution in this protected area. Events like barbeques and parties are not welcome within the area due to the damage which could be caused. The watchwords are "Enjoyment with responsibility."
(Below: A 1932 picture of the beach)
A 1932 picture of the beach